Modern Whisky began quietly, not surprisingly over drams shared by friends. Being less than sober in the moment, I hazily recall the idea being solidified with a simple "why not?" and "at the very least, we'll have some whisky to drink." I spent the following time trying to define what Modern Whisky is and would become to myself and to my network of colleagues, potential investors, whisky enthusiasts and a few naysayers. Unfortunately, none of the naysayers could make it tonight. Three years, some unimaginable changes to our lives and a global pandemic later, we're still here, and so is Modern Whisky.
And here we are, 
Welcome to Modern whisky's first tasting event; the room is filled with people very important to us from diverse industries, but with one commonality, a taste for good whisky. I think it's safe to say that tonight at the very least, we can celebrate not having to drink our whisky alone in front of a computer screen, but with friends both old and new. 
This evening we've chosen a flight of whiskies by producers that we have purchased casks from for bottling in the future; this is the core of what Modern Whisky is as a company and a brand. We are an independent bottler. 
The expressions we chose to pour tonight represent distilleries in Scotland. Not the country where whisky was invented, the country where it was perfected. 
Craigellachie
Where the Spey enters its gently meandering form, nestled in flood plains and hosting annual salmon runs under Telford's Bridge. The town hosts two great whisky bars, one within the iconic Craigellachie hotel.
Opened in 1888, the Craigellachie distillery embraces both innovation and tradition in its process. The renowned 13-year will be our first expression of the evening, and our cask of Craigellachie will be the first release by Modern Whisky.
Currently, our 2007 distillation is resting in NEOC French Oak.
New Era of Cask is an innovation in barrel treatment that includes shaving off the original char and re-toasting the staves with infrared waves. We will taste the expression in roughly 6 months, and it will hopefully be ready to bottle within a year. 
This is a robust whisky, rich and complex but remarkably smooth and well-rounded. I can't wait to taste the influence of French oak. As far as we know, this will be the first Craigellachie whisky finished in NEOC French oak.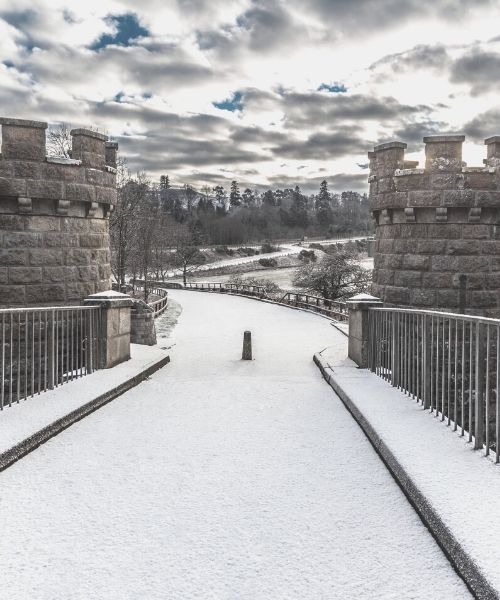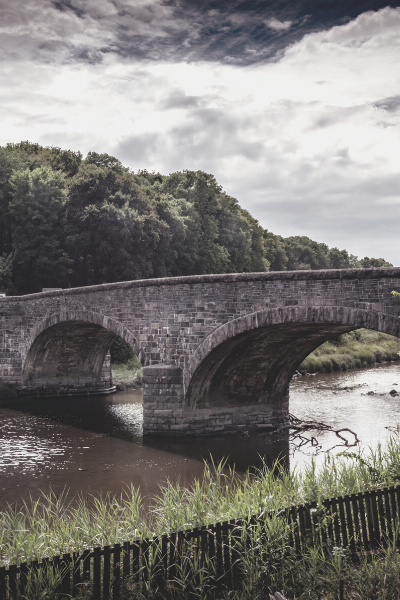 Bladnoch 
I would doubt anyone in the room doesn't know what Scotland's most northern distillery is, especially my dear friend Dan Volway who served as their brand ambassador here in Canada for many years. I am of course, talking about Highland Park and its uniquely peated malt beloved around the world. Tonight I  will direct your attention in another direction, Scotland's most southernly distillery. Nestled in the county of Galloway, the Bladnoch distillery still thrives despite the adversity that shuttered several of its regional brethren. It was closed in 1993 but purchased in 1994 by Raymond Armstrong from Northern Ireland.
Armstrong decided to reopen the distillery after tasting the well-balanced and floral whisky produced at Bladnoch. Although production is limited, the site hosts the first whisky-making school in Scotland, and the distillery's future is brighter than ever. The distillery was purchased again in 2015 by Australian entrepreneur David Prior. The first Australian to own a distillery in Scotland. Former Macallan Master Distiller Dr. Nick Savage joined Bladnoch in 2019. 
Modern whisky currently holds several casks of Bladnoch's delicate lowland malt, gently maturing in American oak, awaiting its turn to be enjoyed. 
Tonight, we will enjoy the limited release 10-year-old. Non-chill-filtered and bottled at 46.7 ABV. 
Tullibardine
The history of Tullibardine as a location for brewing and distilling is one of the oldest in Scotland, dating back to the 15th Century. The story begins in 1488, when a young King James IV of Scotland, stopped by before his coronation to purchase beer from the local brewery. This brewery was known for producing fine beer because of the local water source. By 1503, the King had granted them a Royal Charter.
Conversion of the brewery to a distillery began in 1947, and today Tullibardine has the rare distinction of being independently owned. And with the recent addition of an on-site bottling plant, one of the few distilleries to distill, age and bottle on-site, giving them a genuinely regional taste profile. 
Tonight we will be tasting three expressions from the Signature range, beginning with the Sauterne 225, The Sherry 500 and the remarkable 15 year old. 
Sauterne cask finish 
225 Litre Sauternes casks 
Sherry finish
500 Litre sherry butts 
So now you know who we are and what we are doing. The final and most important question is why?
Bottling is at the heart of Modern Whisky. Who wouldn't love to buy a cask to share with our friends? Or to give as gifts to commemorate a special time or experience? It could be a cask that carries the birth year of a loved one. No matter the reason, it needs to be bottled in Scotland, labelled correctly, duty paid, landed and distributed to its final home in your office or home bar. Modern whisky will continue to build our inventory of casks and at the same time be able to source a particular distillery, finish or age statement for the buyer.  Our Branding will be simple and elegant, with co-branding and custom dedication options for anyone who chooses to buy a cask for bottling.
Thank you all for coming this evening, to the first of many Modern whisky events. 
Thanks to Peter Kefalas
Thank you to our sponsors
Richard Harris at Colliers
Peter Poulos at Areti